GL Announces INAP Emulation Over IP
(Intelligent Network Application Part)
Welcome to another December 2012 issue of GL's Newsletter providing information and insight into our latest product INAP Emulation over IP. INAP is part of SS7 protocol suite and used for services such as single number translation (800), local number portability, incoming call management (do not disturb or call forwarding), backup call destinations in case of disaster, and similar services.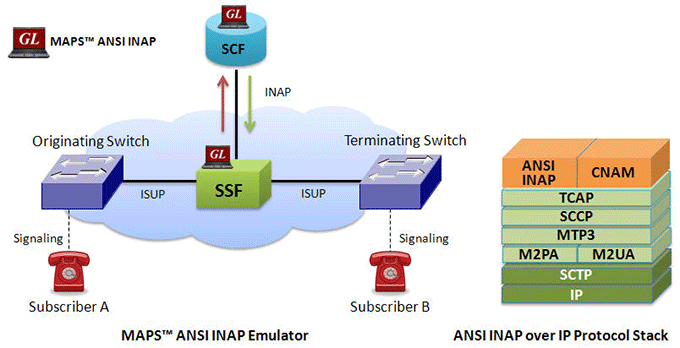 Overview
GL's Message Automation & Protocol Simulation (MAPS™) is a multi-protocol, multi-technology platform used for the emulation of a variety of communication protocols over IP, TDM, and Wireless networks. MAPS™ can be used to test signaling over legacy networks (such as CAS, SS7, ISDN, PPP and more), IP networks (such as SIP, MGCP, MEGACO, SIGTRAN, Diameter…) and also the Wireless technologies including GSM, UMTS, and LTE networks. Recently ANSI INAP over IP has been introduced.

MAPS™ ANSI INAP is an advanced protocol simulator/tester for ANSI INAP (Intelligent Network Application Part) services. The tester supports testing network elements gsmSCF and gsmSSF, error tracking, regression testing, conformance testing, and load testing/call generation. It is able to run pre-defined test scenarios against ANSI INAP test objects in a controlled & deterministic manner.

MAPS™ ANSI INAP scripts are suitable for testing objects accurately, reliably and validated for compliance with ANSI specification as defined in the table below. It is suitable for controlling telecommunication services such as CNAM (Calling Name Delivery), LNP (Local Number Portability), and Toll-free 800 Number over TCAP layer.
| | |
| --- | --- |
| Supported Protocols | Standard / Specification Used |
| CNAM | GR-118-CORE |
| LNP | GR 1299 CORE |
| TCAP | ANSI T1.114-1996 |
| SCCP | ANSI T1.112-1996 |
| MTP | ANSI T1.111-1996 |
| SCTP | RFC 4960 |

The application gives the users the unlimited ability to edit ANSI INAP messages and IN service scenarios (message sequences). "Message sequences" are generated through scripts. "Messages" are created using message templates.
Testing the Peer Endpoints (SCF or SSF)
Call Generation
Call Generation option allows the user to simulate outgoing communications where an outgoing call is initiated by sending call control messages using proper scripts and profiles. The profile allows necessary parameters of call control messages to be changed during run-time.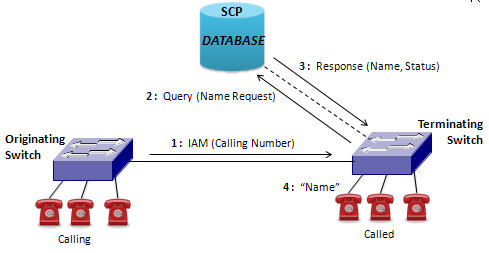 CNAM (Calling Name Delivery) Services

Testing gsmSCF (Service Control Functionality)

The MAPS™ ANSI INAP configured to act as GSM SSF terminal sends CNAM request (Name Request, Calling Number details) to the DUT (gsmSCF). On receipt of a CNAM Query request message, DUT (gsmSCF) sends a response (Name and Status details) message.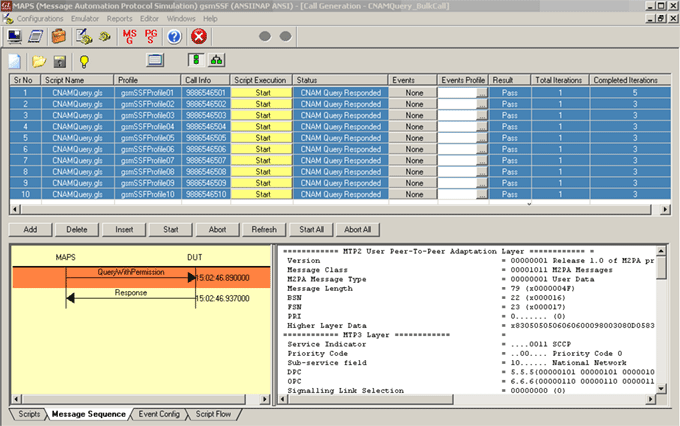 CNAM Query Service at gsmSSF Node
Call Reception
Call generated from other entity can be automatically detected in call reception window by pre-setting the required scripts in the Incoming Call Handler window.

Testing gsmSSF (Service Switching Functionality)

MAPS™ ANSI INAP can also be configured as gsmSCF node to test the DUT (gsmSSF). QuerywithPermission message is triggered when the CNAM Query message is received from gsmSSF, which is processed and the response (Name and Status details) is sent back the DUT (gsmSSF).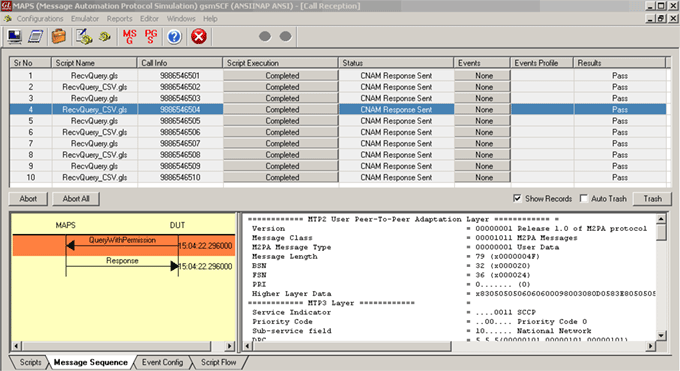 CNAM (Calling Name Delivery) Receive Query Services at gsmSCF Node
Main Features
ANSI INAP Emulator can simulate GSM SSF and GSM SCF entities

User-friendly GUI for configuring the SCTP Layer

User configurable signaling links

Access to all ANSI INAP message parameters like CNAM, TCAP 800 Number, LNP, Signaling Link Test Message, and more

User controlled access to optional parameters such as timers

Ready scripts for Customizable 800 Number, CNAM, LNP, Call Diversion

Supports customization of call flows and message templates using Script editor and Message editor

Supports scripted call generation and automated call reception

Provides protocol trace with full message decoding, and graphical ladder diagrams of call flow with time stamp

Script based & protocol independent software architecture

Provides call statistics with associated captured events and error events during call simulation
Call Statistics
MAPS™ supports Bulk Call Simulation and Stress/Load Testing capabilities through Load Generation feature. All call handling scripts (irrespective of the type of the functions) are assessed by MAPS™ to provide statistical information about Total Calls, Active Calls, Completed Calls, Passed Calls, Failed Calls, and Simultaneous Calls/Sec (CPS), and Calls/Sec.

It is also possible to characterize the statistical information under different groups of call handling scripts under a unique heading.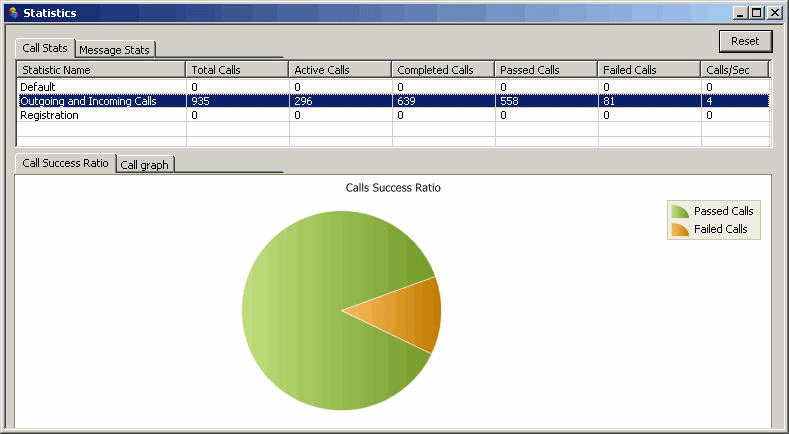 For comprehensive information on the application, you can refer to MAPS™ ANSI INAP protocol emulatorweb page.