Enhanced Network Monitoring & Test Products
Overview
Network monitoring & testing for the purpose of verifying function and quality of network elements is vital for any organization whether small or large. Today's hybrid networks, based on feature rich new technologies, often break, in contrast to yesterday's basic, dull, single source, but reliable networks. This is especially true in the converging communications and computers sector, often called Unified Communications (UC). In today's home or office, it is common to have power outages (and the grave consequences that follow), PC's that crash or get infected, phone service that is unreliable or poor quality, broadband lines that often fail or slow down, and even entire networks suddenly out of service, the list is endless. Small or large enterprises and carriers must protect their network elements (sometimes 24/7) to provide the quality of service users expect. Anything short of this can be aggravating and reduce efficiency and productivity.

GL has developed scalable network monitoring and testing probes and centralized collection and reporting systems for today's telecom networks. They provide instant visibility into the performance and operation of TDM, VoIP, and Wireless networks.
Maintenance engineers can securely access the network view from literally "anywhere" that Internet access is available. They can also monitor, diagnose, and troubleshoot remotely with simple to use scripts.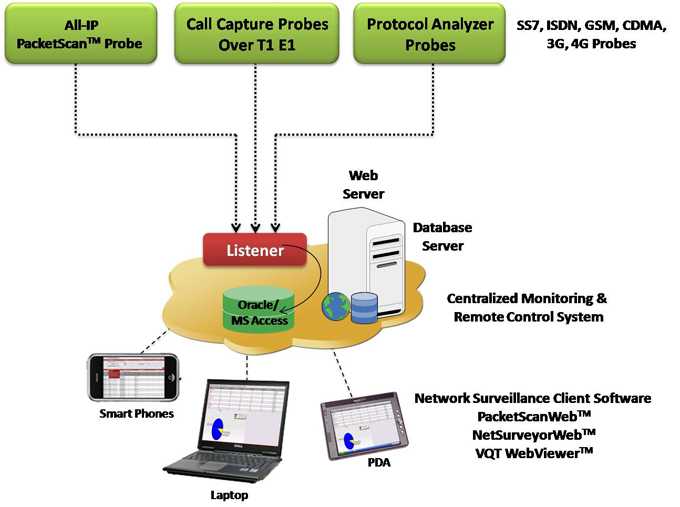 Common characteristics of our Network Monitoring and Test Systems are:
Uniform Features across all Network Monitoring Systems,

Scalable Probes,

Common Database Servers and Listeners

WebServers
Uniform Features across all Network Monitoring Systems - An important characteristic of all of GL's Network Monitoring Systems is similarity between the TDM, VoIP, and Wireless NMSs. This results in reliable, user friendly systems. Enhancements to one are automatically incorporated into others. Reports, administration, and maintenance are uniform.
Network Status or Link Status

- Provide real-time status of all deployed probes. For T1 E1 networks, this feature displays physical and data link status details such as sync Loss, carrier loss and MTP layer status for all the available probes across the network.

Standard and Custom Reports View

- Drag and drop any data column to report view, save the configurations, and reuse depending on the monitoring requirements.

Customized Graphs (Bar or Pie chart types)

- Create simple SQL queries to generate any type of graph, or use the standard set of graphs already included in the software such as Call Volumes (Incoming, Outgoing, Call Failure Causes), Call Duration Analysis, Call Quality Analysis (CMOS, LMOS, Delay, SNR, Echo, Data Tests, etc.)

Advanced Filters

- Choose any field from the Call Detail Records and apply logical conditions between multiple filters to drill down to the "Calls of Interest".

Auto Refresh Data

- Monitor real-time data as well as historical data.

Email Alerts

- Automatically alert users when "Calls of Interest" are detected; You can also customize alarm conditions and generate other alerts types such as visual alert, audible alert, or even log into tables for future analysis.

Flexible Report Generation

- Export "custom reports views" to PDF or CSV formats.
Other common architectural features are:
Scalable Probes

- Scalable probes at multiple and remote locations.

Probes gather IP, TDM, and Wireless packet information in a non-intrusive fashion and forward call detail records (CDRs) and statistics to a central database. Only precise and filtered data (user selectable) is collected into the centralized database.

Examples of GL probes are:

"All-IP PacketScan™" probe
"Call Capture and Analysis over T1 E1" probe
"Protocol Analyzer" probes such as SS7, ISDN, GSM, and other 3G and 4G protocols over IP, TDM, and Wireless networks

Common Database Server and Listeners

- A Central Database stores the data collected by probes. Records are stored into a relational database (Oracle 10g, 11g) using ODBC. Listener is modifiable and supportable with MySQL.

WebServer

- A WebServer provides real-time and historical views of the data through various "browser based" clients using a web interface. Web servers are supported with ASP.NET, IIS 7.0 – Windows® 7 Professional 64-bit, and IIS 7.5 – Windows® Server 2008.

Network Surveillance Client Software

- Examples of GL's web-based network surveillance software are:
TDM & Wireless

VoIP & Wireless

All Networks


SS7 CDR


VoIP CDR


Data TestGraph


SS7 Graphs


VoIP Graphs


Voice Quality Graphs


T1 Phyiscal Layer Alarms