GL
GL's Enhanced Digital Central Office Switch Simulator (DCOSS)
Welcome to another November 2012 issue of GL Communications' Newsletter providing information on our enhanced Digital Central Office Switch Simulator (DCOSS) product - a powerful simulator for telecommunications networks. A snapshot of the capabilities is shown below.

The DCOSS is a high density switch and a comprehensive traffic generator which supports large volumes of any traffic including voice, fax, modem, and tones. Unique applications of the DCOSS include Lawful Interception, Automated Attendant, IVR Testing, Gateway/ATA modem and fax testing, and SS7 Network simulation. For instance, being a self-contained system with capabilities to easily communicate with external networks, the DCOSS can support an entire SS7 network including LNP, GTT, internal traffic and external phones. Routing and hunt groups are fully supported and configurable.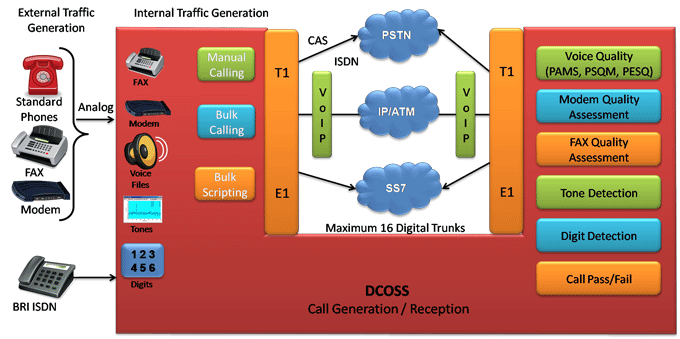 Overview
DCOSS is ideal for simulating and testing advanced telecom networks/products including switches, gateways, and transmission systems. DCOSS is a central office switch with both T1 and E1 trunks along with analog and BRI ISDN phone interfaces. DCOSS supports a multitude of protocols including SS7 (SSP/STP/SCP), PRI ISDN (all variants ) and CAS (MFC-R2, E1 CAS, and T1 CAS). The DCOSS CAS State Machine provides the versatility of a user-defined script for simulating custom CAS protocols.

DCOSS provides carriers and other operators with the ability to test virtually all elements of their networks. In addition, it provides a user-friendly GUI, remote client access (GUI, CLI, SDK), and scripting with which users can capture the performance of networks in a wide variety of scenarios.
Features of enhanced DCOSS: